As we all know, after 2 years of the Covid-19 epidemic raging and very complicated developments, the world economy in general and Vietnam's economy were almost "stagnated". We have witnessed the largest wave of repatriation in history with more than 150,000 thousand workers from 19 southern provinces returning to their hometown after the period of social distancing and blockade due to Covid-19, that is also proof. It is very clear to see the impact on the economy and people's lives after Covid-19.

Image of people "repatriating" after social distancing and blockade because of Covid 19
After the epidemic was under control and reopened from October 2021, it was a boom time for the textile industry, when orders returned rapidly, especially in the yarn industry. However, only by mid-2022, the world situation changed when the market continuously appeared with new difficulties such as:
+ The tense political situation between Russia and Ukraine and Western sanctions, Russia's retaliation has led to a breakdown in oil and gas supply relationships that have existed for decades, making energy global volume becomes crisis.

Shortage of energy sources, oil and gas, gasoline
+ The price of input materials, freight charges fluctuates up/down, causing many difficulties for production units (although now it has decreased compared to the same period last year, but still high compared to the average price). before the pandemic).
+ The situation of major markets in the world such as the US, UK, EU, etc. has almost entered a recession, inflation and interest rates have risen to record levels. A series of businesses faced a wave of strikes when workers were asked to increase wages in the face of rising costs.
+ The USD fluctuates, the exchange rate rises, banks tighten credit limits, making it difficult for business units to get loans and liquidity, and the real estate situation is almost "frozen".
+ The situation of China's resolute implementation of rigid blockade policies "Zero Covid" throughout the past period causes difficulties for the global supply chain. Although recently December 26, 2022 China has just announced that it will reopen and lift blockade measures, but it takes a long time to gradually recover. And even now that China is reopening to the world, many countries are worried that the disease will be at risk of spreading again.
Not outside the influence of the world's fluctuations, Vietnamese businesses are also heavily affected. There are more than 500,000 workers affected, of which 42,000 have lost their jobs. Thus, there are 42,000 families, equivalent to 100,000 people, affected, mainly in labor-intensive enterprises such as textiles, footwear, wood processing, seafood, processing electronic components, mechanical engineering caused a series of businesses to close, lay off workers, cut working hours during the upcoming 2023 Lunar New Year period. This is an unprecedented paradox, when near Tet in previous years, businesses massively recruited more workers to promptly complete orders and ensure delivery progress for customers.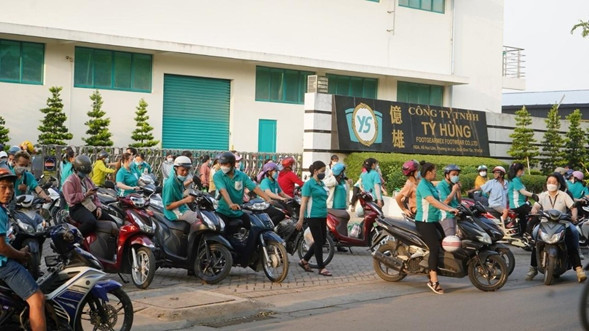 Status of workers losing their jobs
Across the country, according to statistics of the Vietnam General Confederation of Labor, the number of businesses and employees affected by the lack of orders is 441 enterprises (331 foreign-invested enterprises, accounting for 75.05% of the total number of enterprises). ) with a total of 624,786 employees in 25 provinces and cities (concentrated in the southern region with 68% of total enterprises, 88.27% of total affected employees).
Of which, 562,400 employees have their working hours reduced (accounting for 90%), 31,370 employees have their labor contracts terminated (accounting for 5.02%), 31,012 employees have taken unpaid leave, and their labor contracts are suspended. , paid leave to stop working (accounting for 4.98%)…
Falling into a state of sudden job loss made tens of thousands of workers struggling, struggling with a livelihood, no salary, the expected Tet bonus is also more obscure than ever. Perhaps, for workers who have lost their jobs, the road back home after the last day of work at the company has never been so heavy. Some people choose to stay in the city to find seasonal jobs in exchange for other job opportunities, but it is not easy to get a job at the end of the year. Some people can't stand with living expenses, so they are forced to return to their hometown to celebrate Tet early with worries for the life ahead.
According to experts and businesses, the disruption of the labor supply chain and the difficult situation of the market will last until the first quarter of the second quarter of 2023 due to fluctuations in the world economy. Currently, some businesses are trying to hold out to wait for the positive situation of the market, if after the first quarter of 2023 it has not recovered, the number of employees who lost their jobs, cut working hours, and forced closure will increase greatly. The situation of workers affected by their jobs, if not handled well, will not only affect people's lives but also leave consequences, affecting security and order.
From the perspective of Enterprises, it is undesirable to lay off thousands of workers, but due to shortages or even no production orders, it is too much to bear all the costs to survive. forcing businesses to cut jobs.
However, during this period, there are still businesses that have overcome difficulties and ensure jobs for employees such as: Nha Be Garment Corporation System (referred to as NBC), Textile Garment Corporation, etc. The South – Vinatex (referred to as VSC). NBC and VSC are fortunate to have the companionship of customers to maintain a stable source of orders. In addition, the drastic and correct direction as well as the non-stop work of the Board of Directors of the Corporation during the past time so that not a single employee has to be unemployed, the regimes, policies The books on salary and bonus for the Lunar New Year 2023 are directed to be developed and sent to employees. Contributing to helping employees have a full of excitement and joy when the new year is coming. This went against the current context when most businesses by December 2022 did not have plans to reward Tet or pay full salary, which is a difficult thing.

Nha Be Garment Corporation in the product announcement ceremony of Vietnam national brand in 2022

VSC General Director – Mr. Nguyen Hung Quy received the award decision for units with achievements
in production and business in 2022.
For the Board of Directors of NBC and VSC, the success of an enterprise is to not let any employee be left with worries about income, put the joy and happiness of employees on the job. action, the trust of customers as a guideline for the striving.
In addition, the entire system of Nha Be Garment Corporation as well as the Southern Textile and Garment Corporation - Vinatex also have orientations and preparations to continue to achieve good results in 2023 - a year predicted. extremely difficult. However, the market's movements in the near future will have many complicated developments, it is difficult to say anything in advance. Therefore, in addition to the efforts of the Board of Directors, NBC and VSC need the companionship and understanding of employees to help the Corporation overcome the challenges ahead.
We firmly believe that with the collective strength of employees and employees, the Corporation will definitely continue to achieve success, giving employees income and a happy and prosperous life.
- VSC -